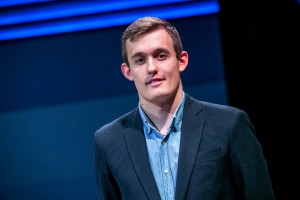 Olivier (Ollie) Smeenk holds a business degree from Rotterdam School of Management and has set up and worked on multiple initiatives:
Kukua Weather Services [Cofounder and Head of Operations]: Leading provider of weather information for sub-Saharan Africa. Currently his primary engagement.
SODAQ [Cofounder and Board Chairman]: Sustainable IoT hardware development and sales company
ECE Students [Ex-Board Member External Relations]: Raised funding to support an organization that promoted entrepreneurship at the Erasmus University in Rotterdam
This sense of entrepreneurship began in high school when Ollie was developing websites and also created a bicycle home trainer that generated electricity, for under-served communities in Tanzania who did not have grid access.

Besides these initiatives, Ollie engages in the following:
Serving as local representative in the Netherlands for African businesses looking to partner with or supply to Dutch/European companies (for example acting as a broker linking commodity buyers with suppliers in Africa and also helping to raise trade finance)
Mediating business conflict and leading shareholder meetings, using practices from his experiences in meditation as well as teaching.
Snowboard and SCUBA Diving lessons (Ollie was certified as the youngest ever PADI IDC staff instructor in 2012 – meaning he could train experienced divers to become diving instructors). He is still current in these two skills and would happily teach anyone and share his passion for the sports.
Business management consultancy and services. Lean startup methodologies, SCRUM, accounting and financial management.
Videography: filming and editing movies for companies or for travel documentaries.
Providing contacts and advice for doing business in or traveling to to Nigeria, Tanzania, and the rest of the world through contacts made during International School in Tanzania for 12 years and during university where 60% of his fellow students were from all over the world.
Recently developing expertise in global politics as well as Cryptocurrencies through extensive research.
Company name: olliez.com
Location: Rotterdam
KvK (Chamber of Commerce): 59017422
Please contact Ollie using the form below.