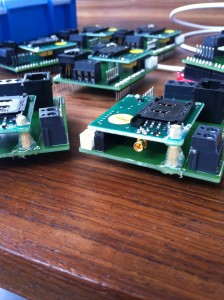 Whether it was the executive from Cisco during the Internet of Things (IoT) World Forum in London in October 2013 or the hardworking teams at the Maker Faire Newcastle in April 2015, everyone seems to have a different name, ambition, and prediction about the future of the internet.
The most recent trend I have noticed while traveling to different conferences and events is that big corporations tend to make up the fancy words to seem like they know what they are talking about, while the smaller companies are lost between the endless types of technology they can use  for the creations that they don't even want. I have heard terms such as ¨The Internet of Everything¨ replacing just ¨The Internet of Things¨ and even rediculous creations such as ¨The Fog¨ being a layer between our devices and ¨The Cloud¨.
In all 3 years the progress has continued in off-the-shelf devices and components have continued to shrink. However, for the makers the progress has not occured fast enough yet. Cisco claims that there will be 20 Billion devices in the world by 2020, but currently the technology for developers often lacks quality and doesn't convince the masses. Arduino has been the standard board for development for the last years, and requires a range of shields in order to actually be used in the field. As seen in the picture on the right, modified shields must be used to connect devices to the GPRS network, which is very costly, unreliable, and power-inefficient. Thankfully, along with a group of developers, I have had the pleasure to be at the frontier of IoT device development.